Weaver is commit No. 7 for the Red Raiders in 2017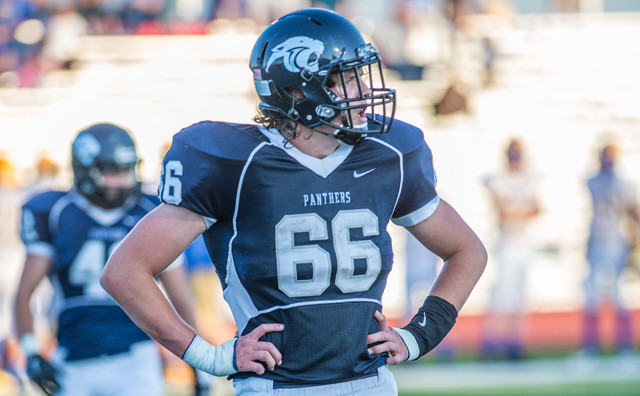 Less than a week since receiving an offer from Coach Lee Hays and the Texas Tech coaching staff, Farmington (New Mexico) Piedra Vista offensive tackle Dylan Weaver committed to the Red Raiders.
The 6-foot-6, 280-pound lineman first started talking with the coaching staff a month ago.
"I would say probably around late April, early May," Weaver said. "Our linebackers coach at my high school sent my information to Texas Tech and the coaches got back with him pretty quickly. Coach (Eric) Morris came down to watch us practice and I ran through some drills.
"He told me that he would try and get their offensive line coach down to see me. Coach (Lee) Hays came down a few weeks later, then I had an offer from Texas Tech later that day. The coaches like my quick twitch muscles, my quick reactions on the field, and Coach Hays told me they like recruiting kids from the country because we are hard-working guys."

Weaver plans to visit the South Plains this weekend and shared his thoughts on receiving the offer from Texas Tech.
"I had some offers, but Tech is definitely the biggest school, biggest offer," Weaver said. "It's a big deal, I haven't really followed Texas Tech football growing up, but I really like the Air-Raid offense they run. I'm excited to get down there this weekend to see everything and spend time with the coaches."
There was no timeline or plan involved, making his commitment felt right for Weaver and he decided to make things official with Texas Tech on Tuesday evening.
"I noticed that Casey (Verhulst) committed earlier today," Weaver said. "I sat down with my high school coaches and my Mom for a little bit. There are only so many spots and I wanted to take my spot in this Texas Tech recruiting class.

"I called Coach Hays and he was surprised. He told me that he didn't want me to feel any pressure about making my commitment. I told him that I was ready and that I'm ready to compete.
"Coach was very happy, and then we just started talking about the visit this weekend, some of the things we are going to do. It sounds like a lot of fun, and I'm excited to hang out with all of the coaches. I want to see the athletic facilities and learn more about the school in general. I'm just excited to see where I will be."

Weaver, the fourth offensive lineman commitment for the 2017 class, also had this to say about his commitment to Texas Tech.
"I have never really understood why kids commit and decommit from schools," Weaver said. "I plan on staying loyal and cannot wait to get things started at Texas Tech."
Currently unrated, Weaver earned All-State First Team Offense honors this past season. He chose the Red Raiders over offers from New Mexico, Georgia State, and San Diego State.