Tech OC convinced WR position stacked with talent
"As far as depth, we're better than we've ever been."
Texas Tech offensive coordinator Eric Morris knows although the Red Raiders are tasked with replacing several key contributors from last season's depth chart, the offense remains as dynamic as ever.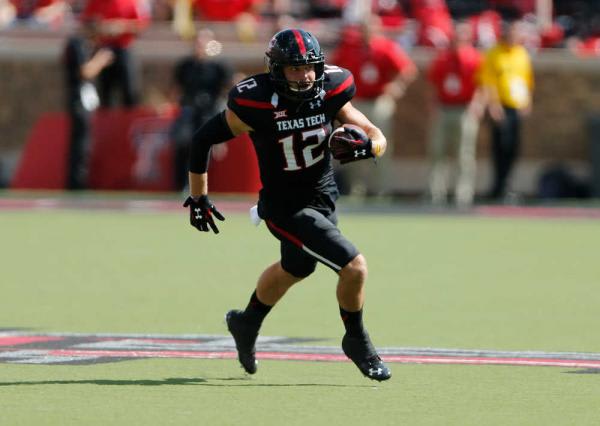 After losing senior receiver Jakeem Grant, Morris announced Cameron Batson would have the first opportunity to step in as a starter but won't be the only receiver in consideration.
"Cameron Batson will start at 'H', behind him will be [DeQuan Bowman] and [Keke Coutee] will compete," said Morris before the first practice. "With Jakeem leaving – the best one of those three is going to start. Cam is the guy who I thought came on at the end of the year last year, did some good things for us, he's had an incredible offseason.
"So I think it's Cam's job to lose right now with those guys right behind him."
Bowman joins Trinity Valley four-star transfer Derrick Willies as incoming prospects after signing NLI's with the team in December.
Morris recognizes the veteran saavy possessed by both former NJCAA All-Americans will serve well for a receiving core led primarily by underclassmen this spring.
"They're both 21 and 22-years old. I know that doesn't seem to be like a lot on paper between an 18-year old and a 21-year old, but it's a ton in our eyes," Morris said. "They've seen a lot of things, they've been through certain circumstances that makes them act more mature in certain situations.
"When you look at it, the guys that we're going to have lining up out there – I mean, it's going to be a older, veteran group across the board."
Morris mentioned the Red Raiders would look to a group of young faces for contributions at another open spot in the spring while adding he'd seen enough last season from Ian Sadler to remain confident in his abilities moving forward.
"Jonathan Giles, [Donta Thompson] and Zach Austin will all be competing at the 'Y' position right now," Morris said. "I know what Ian Sadler can do. He's been a consistent chain-mover for us, really tough kid that blocks; unselfish player that gets the team motto we're trying to push."
Among the few remaining competitions exists a looming conflict between a pair of veteran receivers.
Reginald Davis served as one of Tech's primary vertical threats last season along with Devin Lauderdale, who's currently serving a suspension that will keep him out during spring practices. Davis hauled in eight touchdowns - second-most behind Grant - on 38 catches for 536 yards.
After returning from a back injury that kept Dylan Cantrell out the entire 2015 season, the 6-foot-4 Whitehouse product believes he's returned to full strength and also can help serve the Red Raiders in their vertical passing game.
"We're just splitting time right now and competing every day," Cantrell said. "That's one thing our coach has been stressing, especially the new strength coaches, just compete at everything you do."
All that matters is the approval from the main gunslinger, Tech quarterback Patrick Mahomes. After spurning baseball for a full-time opportunity at quarterbacking the Red Raiders in spring practices, Mahomes is already busy rekindling his chemistry with Cantrell on the outside and Batson inside, as well, in preparation for the upcoming season.
"So far Cameron Batson's been a great, great replacement [for Jakeem Grant]," Mahomes said. "He's kind of the same mold, same type of guy. He's gotten a lot of the little short routes down. Outside aligned is Dylan Cantrell. I played with him in high school so I've got a great comfort there in being able to have great timing with him all throughout every route."