Stockton anticipating open competition at RB
After losing the first back-to-back 1,000-yard rusher since Byron Hanspard, the Red Raiders are now looking for a replacement for DeAndre Washington.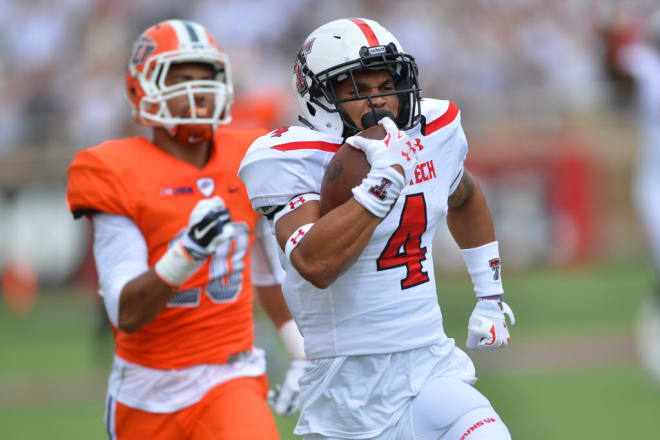 Texas Tech added a new running backs coach, choosing former UCLA director of player development and high school relations and former NFL running back Deshaun Foster to take over for Mike Jinks, who accepted a job as the head coach at Bowling Green State.
Justin Stockton believes Foster's experience as a professional running back is already paying dividends in the running back room.
"Most definitely," Stockton said. "The drills that he does, teaches us the techniques, he's been there before, you know, and we're all locked in and ready to learn new things."
Stockton and Foster initially met during the recruiting process when Foster was recruiting Stockton to UCLA.
"What's funny is that when we introduced ourselves, when he said his name – it kind of sounded familiar," Stockton said. "So I was in there thinking, 'hey, where do I know this name from?' and come to find out, I figured that he was the running back coach at UCLA whenever I was in high school and so it was pretty funny, we was laughing about that."
Between Stockton and Washington, Tech accounted for 1,859 rushing yards last season along with 726 receiving yards and 27 total touchdowns.
Washington's absence creates more opportunities for guys like DeMarcus Felton and Quinton White who contributed in limited roles last season, despite appearing in all 13 games and for Corey Dauphine who served primarily as the scout team running back.
"They're all a great group of guys," Stockton said. "They're all blessed, they wouldn't be here if they didn't have, you know, some juice.
"It's a fresh start, new coach. We're competing for that spot."