Signing period continues, what's to expect?
Texas Tech basketball returns 12 players to its roster with a glaring need for a low post presence heading to next season. But beyond that, how desperately should the Red Raiders push for any late additions to its signing class?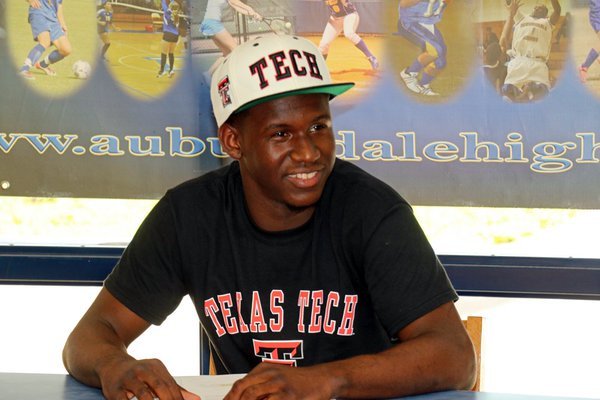 Teams can begin signing 2015-2016 prospects to national letters of intent for next season during the early signing period in November, which is when three-star guard Keon Clergeot elected to sign with the Red Raiders. The regular signing period begins today and the final signing date for Division I programs is May 18 while Division II programs can continue signing athletes until August 1.
Tech hoops lost two seniors from last season's NCAA Tournament team: Devaugntah Williams and Toddrick Gotcher. Granted, Williams and Gotcher were the team's two leading scorers. But with seven players averaging eight points or more on the season, many capable scorers remain on the roster. The Red Raiders did lose their two best three-point shooters, which could lead to an increased role for Aaron Ross, Justin Gray or Andrew Sorrels next season.
In this post we will take a look at the Red Raiders' potential incoming class at the beginning of the NLI regular signing period.
Keon Clergeot
Position: Guard
Status: Signed
How does he fit: The Red Raiders are set at the guard position with six players set to return before considering Clergeot's addition. As freshman guards, Donovan Ham and Andrew Sorrels played a combined 19 minutes for Tech coach Tubby Smith last season. Tech returns both its starting and backup point guard, which doesn't leave many minutes for Clergeot next season.
Where does he play: As a freshman point guard Clergeot will have to wait in line for an opportunity to play meaningful minutes inside United Supermarkets Arena. But Clergeot could contribute sparingly off the bench as the off-ball guard in Tubby Smith's offense following the departures of Williams and Gotcher. Gray, Jordan Jackson and C.J. Williamson also will factor into the rotation at guard although Williamson often moved in and out of the rotation last season, as demonstrated by fluctuations in minutes distribution.
Braian Angola-Rodas
Position: Guard
Status: Undecided
Ht./Wt.: 6-6, 185 pounds
Schools in consideration: Florida International, Hawaii, Houston, Oregon, Texas Tech, Utah, Utah State, Washington
How does he fit: Angola-Rodas potentially replaces Devaugntah Williams as a scoring guard with experience at the collegiate level. As a sophomore at North Idaho College, Angola-Rodas averaged 21 points on 52 percent shooting, six rebounds and four assists per game while helping lead the Cardinals to a 31-2 record and a Scenic West Athletic Conference championship, earning first-team NJCAA All-American honors in the process.
Where does he play: You could make a case for Angola-Rodas starting with the first group alongside Keenan Evans and Justin Gray. But the Red Raiders put together their longest winning streak last season when Tubby Smith elected to utilize Williams as a sixth man, pairing another scorer with Aaron Ross. With players like Devon Thomas, C.J. Williamson and Jordan Jackson all itching for minutes off the bench, the Red Raiders appear to have a surplus of bodies at guard before potentially adding Angola-Rodas.
Lucas Siewart
Position: Forward
Status: Undecided
Schools in consideration: Arizona State, Boston College, Cal, Creighton, Texas Tech, Tulsa, Utah State
How does he fit: Siewert potentially re-establishes depth to Tech's frontcourt after Isaiah Manderson's midseason departure last season. The 6-foot-9 forward can play both inside and outside with a slick jumpshot and willingness to attack the glass. Siewert is a willing passer and compares favorably to Matthew Temple, another forward on Tech's roster. Adding another forward could prove to be advanced planning for the Red Raiders after losing Norense Odiase for an extended period last season due to injury.
Where does he play: There wouldn't be many first-year minutes for Siewert barring injury and Smith likely would repeat the approach taken with Rokas Ulvydas last season - looking to sit the incoming freshman with hopes of a redshirt. Siewert projects as a forward on the collegiate level and there aren't any openings at the position with Zach Smith fresh off an exciting, above-the-rim campaign and Aaron Ross re-emerging off the bench as the team's third-leading scorer.