Pipkins, Hill carving roles in defense
Texas Tech entered the offseason knowing its defense needed to address voids across the board. With a pair of transfers eligible to join the Red Raiders for spring practice, Tech can at least begin moving forward at the defensive line and linebacker positions.
After losing seniors Pete Robertson, Micah Awe, Branden Jackson, Demetrious Alston and Keland McElrath, the Red Raiders will need to replace at least four starters from its front group.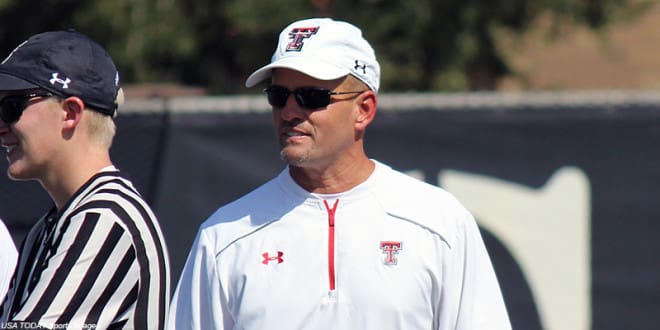 Tech brought in seven defensive linemen on National Signing Day to help address its need at the line of scrimmage. But most won't arrive until summer workouts at the earliest, leaving the Red Raiders fairly thin in terms of depth.
"The crazy thing about these 15 practices is we're going to have seven defensive linemen who are not here," Gibbs said. "The [defensive linemen] that are here are gonna get a ton of reps, which they obviously need. And then first week of June when all these other guys get here we've got our work cut out for us to get them [up to speed] because they have to play. It is what is."
Gary Moore, Breiden Fehoko and Zach Barnes are the only returning linemen with starting experience.
Senior defensive lineman Ondre Pipkins joins the Red Raiders after spending three seasons in Ann Arbor with Michigan. Pipkins was a five-star prospect out of high school and the 14th-ranked defensive tackle in the nation.
Pipkins appeared in 13 games during his true freshman season with the Wolverines and played five games into in his sophomore season before an ACL injury ended his year. Pikins played five games as a junior and recorded nine tackles, including his career-high of five tackles in a rematch against Appalachian State.
"Ondre Pipkins – the transfer who sat out from Michigan – is a very mature young man who's played a lot of football," Gibbs said. "So we've got some good leadership in our room."
Junior linebacker Kolin Hill returns to his homestate, joining the Red Raiders following one season with Notre Dame.
Hill was a three-star prospect out of Schertz-Clemens before committing to the Fighting Irish. As a true freshman, Hill appeared in 9 games for Notre Dame. He recorded 7 tackles, including a pair of sacks. After serving as a practice-only participant last season, Hill has an early advantage in terms of learning on-field calls, and performing within Gibbs' defensive scheme.
"I think his hand will be on the ground most of the time but he has the athletic ability to stand up," Gibbs said. "Another guy who obviously was here all year so he knows the terminology and that's the reason we took Kolin and Ondre a year ago is because we knew, especially this spring, there weren't going to be many bodies out there."