Patrick ready to put his mark on Tech's D-line
Sometimes, there are certain position groups and situations that needs a certain personality to guide their development.
And development is certainly the name of the game for Texas Tech's defensive line. When the Red Raiders add the members of their recently signed recruiting class in June, there will be double digit underclassmen in the unit. Add in that Pete Robertson, Branden Jackson, and Demetrius Alston won't be walking out of the locker room for Tech's season opener this fall, and there's a clear lack of experience in the trenches on defense.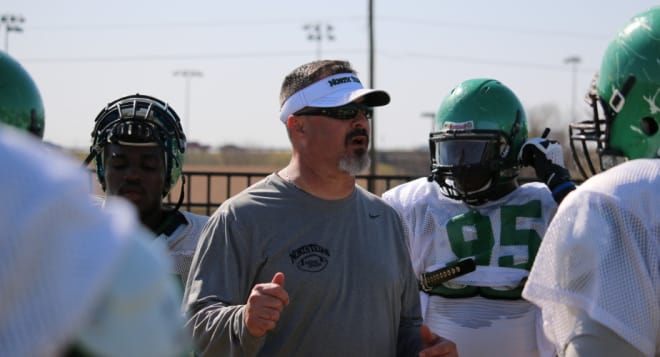 That's where Kevin Patrick enters the picture. The former University of Miami All-American and Texas Tech's new defensive line coach makes no bones about both his personality and approach to the game.
"It's a lifestyle. What I do is a lifestyle. I was born and raised in the firestorm of college football. I started playing this game, and it's only one speed and a hell-bent demeanor, a ski-mask demeanor, so to speak. It's my game, it's my style, and to sum it up in one word, it's pretty hard. I'm gonna get after it. I coach this game like I played this game. That's basically it."
That approach is what attracted him to Kliff Kingsbury, David Gibbs, and the Tech staff. It was a fit from the get-go, and it's why the former North Texas assistant is now wearing red and black.
"I think we all through our careers try to put ourselves with good people, people that fit ourselves," he said. "You're either one of us or one of them. Coach Gibbs, Coach King, those guys kind of fit my style. They get after it, and I was excited about coming here. This fits my style. Obviously, we've got a lot of work to do on the defensive side of the ball, but I love challenges, and I think I'm with great people. Not good people, great people."
The coaching staff is only one half of the working equation, however. The other is the members of his defensive line. Patrick has enjoyed getting to know his players so far, and he's ready to see them get to work on the practice field this spring.
"One thing is that it's a bunch of great guys. I've been impressed with their demeanor and their work ethic since I've been here. Obviously, once the bullets start flying, we find out a lot more about ourselves when the adversity hits. As I say, that's when every man is introduced to themselves. But, we've got some talent. We've just got to find out a little bit more about each other each day."
Breiden Fehoko is the young, talented leader for this crop of defensive linemen's future, and Patrick knows he was forged by fire through Big 12 play as a freshman last fall. That's not the only player he's excited to see get after it, though.
"With Fehoko, what he went through as a true freshman last year, unbelievable. But, you look at guys like Gary Moore, that's what those guys are supposed to look like. Good length, and he's putting on some weight. Then you've got Big Pips (Ondre Pipkens), a transfer, and I'm excited about those guys. You can go right down the list with all these guys. They're bought in, and I think they just want to get – I know they want to get better every day."
And while he'll go through spring ball with a smaller-than-normal group, Patrick will essentially add a new platoon of defensive linemen in June, seven players to be exact. He knows they'll have to be a big part of the picture from day one and is excited to bring them in, but he also knows it won't be easy for most of them to hit the ground running.
"We've got some pieces there, and Coach Gibbs and Coach Spav did an excellent job of picking the pieces that fit into what they do," he said. "I think they did a great job, I look forward to getting those guys in here. I think they're going to go through their own adjustment. Hey, this is Big 12 football. It's big boy football. To come in and make an immediate impact is gonna be tough, but I think we got the right guys. We've got to get them in here, and as soon as we get them in here, take some take, work with them, and get them going."
To say the journey for this green D-line is going to be a bit of an adventure might be an understatement. But, Patrick wouldn't rather have it any other way.
"I'm excited. These are the situations I like to be in. Like I said, I think it's easy when you've got well established, everybody returns, you've got Jason Pierre-Paul. I like these situations where you've got a lot of unknowns, and we're going to mold each other, and we're going to build this thing."
And while this spring and summer will be a bit of an orientation between Patrick and his unit, and they may lack experience, the new assistant knows it isn't about where you start. It's about where you finish, and he's ready to see what happens with his band of Red Raiders between now and kickoff on opening day this fall.
"It's not about where we are right now. It's about where we are game one, and having the ability to sustain and be consistent with the same nasty, consistent demeanor that we need to take the field with every day."