Henderson hosts Red Raider coaches
Two weeks from today, Texas Tech is set to sign eight defensive linemen, many of which could provide immediate help next season. It's one of - if not the - biggest D-line classes in the entire country, and Dallas Skyline 5.5 three-star defensive end Clarence Henderson is among them.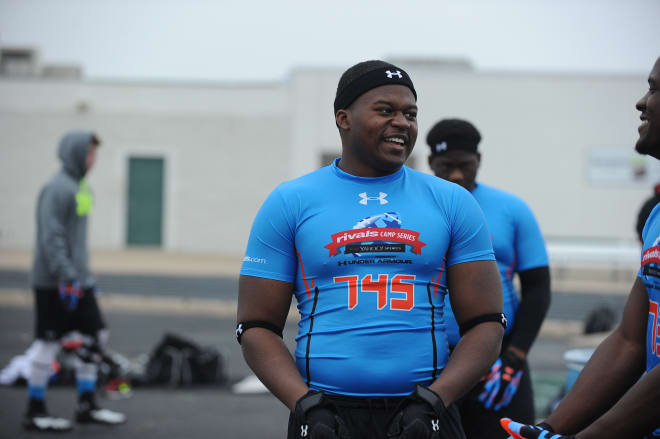 Henderson will be one of a trio of Skyline prospects to sign with the Red Raiders on NSD two weeks from today, and the group was visited by an unusually large group of Texas Tech coaches earlier in the week.
Head coach Kliff Kingsbury, defensive coordinator David Gibbs, new defensive line coach Kevin Patrick, new running backs Jabbar Juluke, and newly promoted outside wide receivers coach Emmett Jones visited Henderson for an in-home visit, showing the love with more than half of the Tech coaching staff on hand.
Henderson loved seeing such a big contingent of his future coaches, and he's eager to get to know more about his soon-to-be position coach in Patrick.
WHAT'S NEXT
Henderson chose Texas Tech in August over offers from UCLA, Washington, Arizona State, Cal, Houston, Kansas State and several others and will make the transition to the next level with his current teammates, defensive tackle Joseph Wallace and running back Da'Leon Ward, and a former teammate, defensive tackle Mychealon Thomas of Butler Community College. The 6-foot-2, 240-pounder will take a trip out to Lubbock on Friday for his official visit, and the aforementioned teammates will be in tow.
IN HIS WORDS
"It was a great, great experience. They came in and we just sat down and talked and went over a few points. I'm ready to get down to Lubbock and make an impact."
"Coach Patrick is a great guy. Really, before football, we have to have the relationship first because he's the one I'll be spending most of my time with over the next four or five years. His personality is kind of a mixture of everything. He said he gets pretty intense on the field and I can see some of that intensity, but he's also pretty down to earth. He said he really likes my work ethic and my intensity and said that he just keeps hearing good things about me. He likes that I'm a hard worker, he likes my aggressiveness and he likes that I'm coachable."
OUR REACTION
Texas Tech certainly made their presence felt at Skyline high school this week, showing off just how much they care about and think of Henderson and his teammates that are set to sign in two weeks. It clearly meant a lot to the DE, and now he's excited to visit the Hub City this weekend. - Will McKay