Getting to know new WR coach Emmett Jones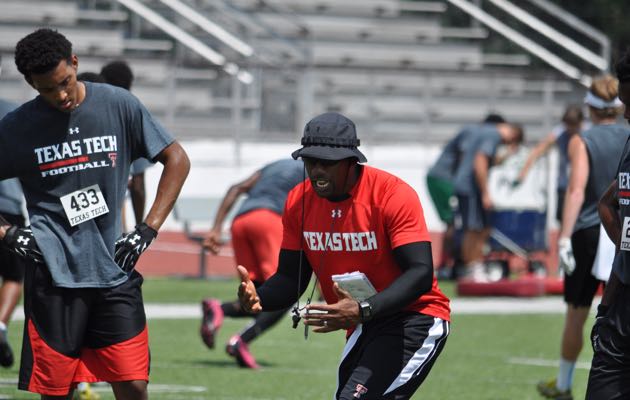 Last January, Kliff Kingsbury tabbed then South Oak Cliff high school head coach Emmett Jones as the new Director of Player Development for Texas Tech. The move followed an on-going trend of hiring and promoting high school coaches onto the FBS level.
Last year alone -- Jones was hired at Texas Tech, Corby Meekins (head coach at Houston Westfield) was hired at Houston, Claude Mathis (head coach at DeSoto) was hired at SMU, Joseph Gillespie (head coach at Stephenville) was hired at Tulsa and Joey McGuire (head coach at Cedar Hill) almost accepted a job offer from the Texas Longhorns that eventually went to Jeff Traylor (head coach at Gilmer) a week later.

Jones, a former Texas Tech walk-on in the mid-1990s, certainly fit the bill as an attractive candidate. In his first three seasons at South Oak Cliff, Jones led the Golden Bears to a record of 30-8 with a handful of deep playoffs runs.
More importantly, at least for college programs looking to hire a talented high school coach, was the fact that Jones has produced talent at every stop in his coaching career - including the seven players from SOC he sent to FBS programs last year alone.
Jones spent his entire coaching career in the DISD with stops at his alma mater Seagoville (2001-04), Dallas Lincoln (2004-05), Dallas Skyline (2006-13), and South Oak Cliff (2013-15). He started out as a wide receivers coach, eventually became the offensive coordinator at Dallas Skyline and then took over the program at South Oak Cliff as the head coach for three seasons.

On Monday afternoon, Kingsbury promoted Jones from the Director of Player Development to an offensive assistant coach. While it was not specified in the program's release, the expectation is that Jones will work with the Texas Tech wide receivers group in some capacity.
Here is what Kingsbury had to say about Jones in the school's press release...
"Coach Jones is an extremely hard working individual and already an integral part of our staff," Kingsbury said. "He will be a great addition to our offensive unit and the relationships he's built around the state will be invaluable moving forward."
The statement itself could be interpreted as 'coach speak' with phrases like 'extremely hard working', 'integral part of our staff', or 'great addition.' But take a closer look into Jones' rise through the coaching ranks and those same quotes begin to take shape.

So that is exactly what I did, reaching out to a pair of Jones' mentors in the coaching world -- former Skyline head coach Reginald Samples and former Dallas Carter head coach Bruce Chambers.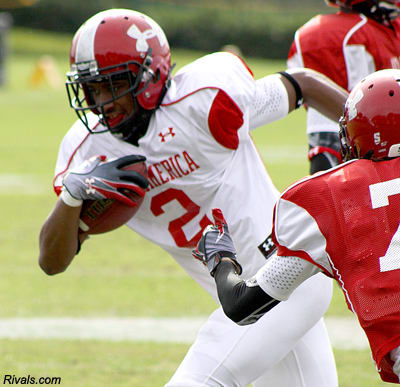 Reginald Samples:
Jones joined the Dallas Skyline coaching staff in 2006 and spent eight years on Reginald Samples' staff.
"I first noticed Emmett (Jones) as an assistant coach at Seagoville high school," Samples said. "I knew he was something special back then, just the way he interacted with the kids. He was running out onto the field to celebrate with them and you could just see his passion for coaching.
"I brought him on as a junior varsity coach and it didn't take him long at all to become my wide receivers coach, then eventually my offensive coordinator. Emmett is very dedicated and has continually moved up in this profession because of his work ethic, and I expect that is the reason he has already moved up at Texas Tech."
While coaching the wide receivers and coordinating the offense at Skyline, Jones produced three All-American wide receivers -- Mike Davis (2010), Thomas Johnson (2012) and Ra'Shaad Samples (2013).

"He coached three All-American receivers for us at Skyline, included my son Ra'Shaad," Samples said. "Emmett could have been easy on him or said 'that's the head coaches son' and treated him differently, but that was not the case at all. I remember my son coming home in tears some nights because coach Jones had pushed him so hard.
"In the end, they became very close and are still close to this day. He taught him that football was more than just a game and something you have to continually work at, especially on the college level. I know that meant a lot to me as a father and it's something that I still appreciate today."
Before making the move to Texas Tech last year, Jones actually consulted Samples on the decision.
"Yes, we talked about it," Samples said. "He always had aspirations of moving to the college level and it was his time. His kids were the right age and it all seemed to work out perfectly from a timing standpoint.
"I'm excited to see what he does on the staff at Texas Tech, but I already know that he will take full advantage of the opportunity and do great things for coach Kingsbury."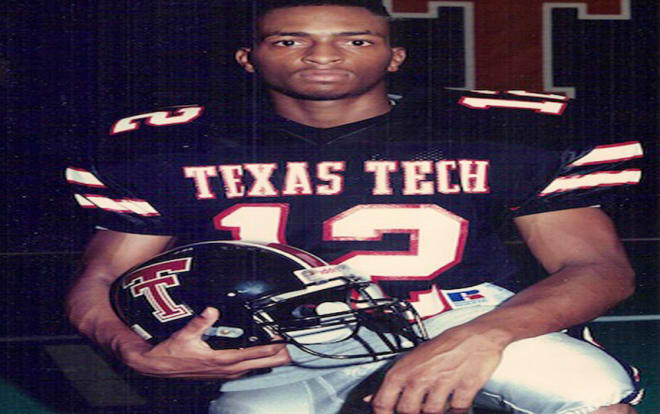 Bruce Chambers:
Jones never worked directly for Chambers, but the coaching profession is a tight circle and Chambers spent several years coaching at Dallas Carter before making his own jump onto the college coaching level at Texas in 1998.
"I first met Emmett (Jones) while coaching at Dallas Carter," Chambers said. "He was a great high school player and I eventually watched him become a great coach at his stops within the DISD. He was at Skyline and I always had a tremendous amount of respect for him so none of his successes come as a surprise.
"He is a technician as a coach. He coaches the fundamentals and you know his kids are always going to be well-coached. When I was coaching at Texas, I would visit him at Skyline and always knew he would have athletes. He just pushes his players and knows how to get the best out of them."
Chambers made the move from high school coaching to college coaching, joining Mack Brown's staff at Texas in 1998. What advice did he offer to Jones on the transition?
"We talked about it before he accepted the opportunity with Texas Tech," Chambers said. "I just told him that he was ready, but also reminded him that it takes more of a time commitment. The main difference is the grind and amount of time college coaches spend working off the field, working on the recruiting trail, and a number of other things.
"But like I said, he was ready for the challenge and it shows with this recent promotion. He is one of the hardest working coaches that I know and he is going to do wonderful things for the Red Raiders."
With years and years of experience coaching at both the high school and college level, Chambers knows a thing or two about the recruiting process and believes that Jones will become a big asset for Texas Tech on the recruiting trail.
"Look, he is also going to be big for Texas Tech on the recruiting trail in Dallas," Chambers said. "I know he can walk into any high school in the area and have instant respect from the coaches. When I coached at Dallas Carter, we had a handful of kids at Texas Tech, including Robert Hall.
"He was a good one, right? Those are the types of players that coach Jones is going to get from the Dallas-Fort Worth area for Texas Tech and that is exactly what they need to succeed."