Fields ready to make his mark on the track during final season
New Tech signee DaMarcus Fields made his mark on the football field his senior year recording over 100 tackles and forcing eight fumbles with 10 pass break ups in route to First Team All-District honors. Now, Fields' focus is turned to the track where he is again hoping to make his mark in his final season.
Even with all his ability on the football field, the cornerback prospect may be a better star on the track.
"I run the 100-meter and 200-meter dashes, the 4x100 and the 4x400 meter relays, and also do the long jump and triple jump. I would do high jump, but I participate in too many events as is," Fields said. "I was born a track athlete."
In fact, Fields has already an impressive resume on the track side of things having participated in the state track meet last year in the 100-meter and 200-meter races. He placed fourth and fifth respectively with times of 10.71 and 21.83. Texas A&M, recognizing his potential on the track extended an offer just a few weeks before signing day as the school tried to sway his talents away from the football field.
This season, Fields is already ahead of his times from last year having run a 10.5 100-meter and a 21.3 200-meter in a few meets so far. His long jump (24-feet) and triple jump (46-feet) marks this season would have placed him in the top-five at each event at state last year as well.
Fields wants dominate in track, however, there is another reason why he participates in the sport: football. Fields will have the chance to run track while at Tech which he sees as a big benefit for what he can do on the football field.
"Track workouts are 10 times harder than football, but I think [running at Tech] will be great for me," he said.
"I just want to be the best player possible, and I think running track helps me with that. I'm trying to gain as much weight as possible while I'm going through track. Just gain weight and work to keep my speed up. I'm up to 190 right now weight wise. I was 180 at the start of track season and have been putting on weight with the workout and meal plans that Tech has provided me."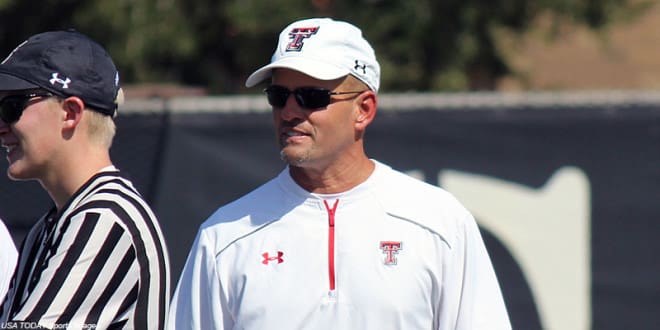 Fields still keeps in contact with the Texas Tech coaching staff especially defensive coordinator David Gibbs. He likes the new defensive back hire, Karl Scott, and is excited to build a relationship with the coach.
"I need to know a little more about him, but from a person standpoint, he is great. I can't wait to build that relationship and get to Lubbock and get on the field so he can coach me."
With track taking up most of his time after school during weekdays, and with no real competition to practice against with football season being over, Fields could've easily hung up the cleats for a few months this spring. Fields has lofty goals as a lockdown corner for the next level and wasn't going to let anything keep him off the field this spring.
"Around here we have a lot of the top prospects and we get together on one field and just compete and get better. I practice track Monday through Friday, and then Saturday and Sunday we have 'DB days' where we practice 7-on-7 and all of that."
"We just get each other together and talk smack and compete. That is how we get our defensive back work in because it is hard to find other people to practice with, so we just get everyone together and compete."
With Taylor being in the Austin area, Fields says prospects from various schools in Waco, Round Rock, Pflugerville and others make their way to a football field to practice pretty much every weekend.
Fields is ready to get to Lubbock and make an impact and will be down for the Tech spring game in April.