Curl makes a dozen for Texas Tech in the 2017 class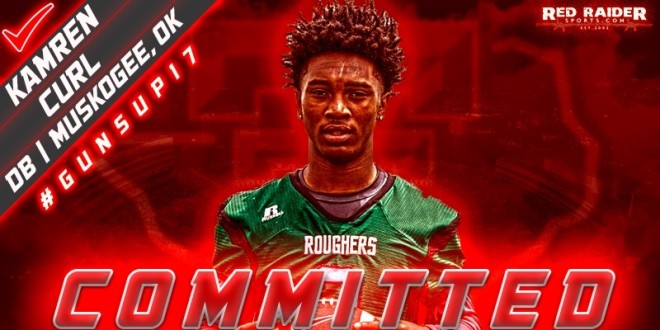 The Texas Tech coaches hit the road this spring during the open contact period and began targeting, offering, and ultimately building relationships with some of their top targets in this 2017 class. Those efforts are starting to come to fruition in a big way over the past 2-3 weeks with several new commitments.
Muskogee (Oklahoma) defensive back Kamren Curl is the latest commitment and the No. 12 prospect to verbally commit to the Red Raiders in this 2017 recruiting class.
Curl and his family visited the South Plains in early June, and the standout prospect knew that he wanted to make his commitment to Texas Tech while on the drive home from the visit.
"I knew that I wanted to commit after my visit to Texas Tech," Curl said. "When I met the coaches and spent time with them, it just felt right and I knew that's where I wanted to be. Plus, when my Mom told me it was her favorite visit, then that made me feel even more confident about my decision.
"Spending time around my main recruiter from Tech, Coach (Karl) Scott, and watching film with Coach (David) Gibbs was a great experience. They really like my size at 6-foot-2, and believe that I have the speed to play both corner and safety in their defense."
Curl holds 19 total offers from college programs across the country, but the offer from Texas Tech earlier this spring really caught his attention.
"It really goes back to when they first offered me," Curl said. "I was excited because it's the Big12 conference and they have some of the best receivers in the nation. As a defensive back, it's great competition and great exposure to match up with those types of players on a weekly basis.
"Plus, out of all the programs that were recruiting me, I had the best relationship with the Texas Tech coaches. We just touched base a lot and I knew it was the right fit for me after taking my visit earlier this month."
The Oklahoma product released a Top 5 last week knowing that Texas Tech would ultimately be his choice.
"I honestly just wanted to release a Top 5 just to say that I had one," Curl laughed. "Like I said, I knew that Texas Tech was my choice for a few weeks and Houston was a close contender, but I did already know where I wanted to go. It feels good to know that I won't have to talk with several coaches on a daily basis.
"I'm just going to focus on Texas Tech and it's a long process that I'm glad is finally over. My commitment to the Texas Tech coaches is solid, other schools can offer, but it would have to be something really special for me to change my mind. I loved the visit, I have a great relationship with the coaching staff, and my family loved how we were treated during the visit."
Curl called Coach Scott with the good news yesterday and shared more about their conversation.
"I have only talked with Coach Scott so far," Curl said. "He was pretty happy because he's been trying to get me to commit for a while now. Coach really didn't believe me at first, but he was very happy and my next conversation is supposed to be with Coach (Kliff) Kingsbury.
"I even talked with some of the other 2017 commitments. They have been recruiting me and telling me to get on board with them. I'm even going to start recruiting some guys myself now. My teammate, Evan Fields, is being recruited by the coaches and we want to play together at the next level."
Rated a 5.6 three-star prospect, Curl is listed as the No. 50 safety in the nation. He finished with 89 total tackles, two tackles for loss, six pass break-ups, five forced fumbles, one fumble recovery, three interceptions, and returned one interception for a touchdown this past season.
Curl chose the Red Raiders over 18 other offers including Kansas, Illinois, SMU, Houston, and Washington State. Coaches from Missouri, Arkansas, TCU, Oklahoma State, and Nebraska have also been showing interest this off-season.