BOOM No. 6 for the 2017 class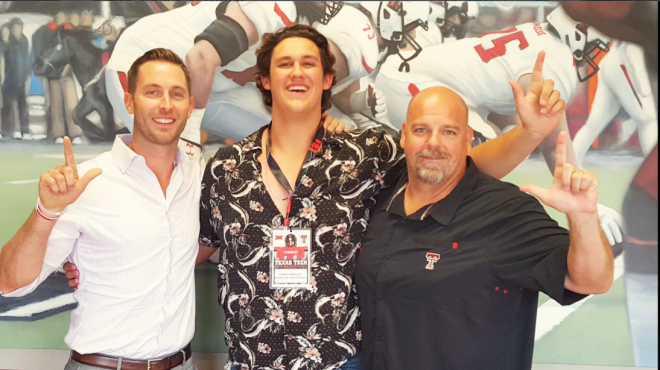 After hosting the standout prospect on an unofficial visit over the weekend, the Red Raiders landed a verbal commitment from Plano (Texas) East offensive tackle Casey Verhulst.
"The visit was great and Texas Tech is a beautiful place," Verhulst said. "It really reminded me a lot of home and I have already done very well here at home. I felt like it would be a great place for me and my future.
"My Mom and I spent the weekend in Lubbock, we both really enjoyed the trip and I spent time talking with my entire family over the past few days before making my decision. I was very impressed with the visit and wanted to make my commitment."
Verhulst built a relationship with Texas Tech offensive line over the past six months and mentioned his straight-forward approach as a big reason for his commitment.
"Coach (Lee) Hays gave me a different approach," Verhulst said. "He didn't try and sell me on anything, he gave me straight facts. We talked about the pros and cons of having to choose one university. Sometimes it's just nice to not be wined and dined, told everything you want to hear.
"Coach told me that I would have to earn my playing time, earn my spot on the roster. That is how it really is, and I respect coach for his approach and honesty. Most coaches will just tell you that they have a spot for you to play as a true freshman and that just isn't true most places."
Verhulst and his Mom also met with Coach Kliff Kingsbury towards the end of the visit this past weekend.
"Coach Kingsbury told me that he expects big things from me, both on and off the field," Verhulst said. "We talked about how he wants to be the best and we talked about the high standards they have for student athletes at Texas Tech. They have a blue-collar element out at Texas Tech, and I can wear my cowboy boots and fishing shirts all of the time. I just felt comfortable and felt the coaches were very genuine with me."
The 6-foot-6, 285-pound tackle spent a few days thinking things over, but called the coaches earlier this morning to make his commitment official.
"I spoke with Coach Hays and he was surprised that I decided so quickly," Verhulst said. "He told me that I would love it at Texas Tech, then he put me on the phone with Coach Kingsbury. He told me that it would be the best decision of my life."
Verhulst is now committed and says that his recruitment is completely over as of today.
"A commitment is a commitment," Verhulst said. "I honestly don't need to be talking with any other coaches after today. I love Texas Tech and I think that I'm going to fit in perfectly ou there.
"Jack (Anderson) and Dawson (Deaton) have been all over me, telling me to commit for months. I just wanted to visit first and everything they told me about Texas Tech really stood out to me. There were great coaches, it was a great city, and Texas Tech is an overall great program. We are going to build a dream team on the offensive line for years to come."
Rated a 5.6 three-star prospect, Verhulst earned District 6-6A All-District Second Team Offense honors this past season. He holds 15 offers from programs across the country and chose the Red Raiders over offers from Arkansas State, Colorado, Colorado State, Houston, Nevada, New Mexico, North Texas, Purdue, Rice, San Diego State, Southern Miss, UTSA, Tulane, and Utah State.