Canada defender receives preferred walk-on offer
First Team All-Defense, First-Team JUCO All-Star, number one ranked defensive end, number eight player in the country, 10 sacks and 14 tackles for loss last year alone, and zero Division-one scholarship offers. It is a month past signing day and 2016 defensive end recruit Isaac Adeyemi-Berglund is still unsigned. How does such a highly-rated and highly-regarded prospect receive little FBS interest?
He's from Canada.
Despite dominating the Canadian equivalent of an American junior college—Quebec students are required to go to a pre-University in the CEGEP (Collège d'enseignement général et professionnel) system for two years before enrolling in a Canadian University—Berglund was ready to call it quits on his dream to play in the States but then a school 1,700 miles south in Texas came calling to offer him a preferred walk-on spot, that school was Texas Tech.
"This is just around the time where I thought I was going to be making my decision to go to a school in Canada and then Texas Tech happened. It was just a special thing to get that Tech offer. They saw me and showed me some love. I'm at that point where I have that fork in the road, I can go to school in Canada or I can take on that financial burden and go to Texas Tech. Texas Tech is my number one option, though. They saw me and gave me a chance."
No, the Texas Tech coaching staff isn't actively recruiting Canada at the moment—as most colleges in the south aren't—but it was Berglund's persistence and desire to play in the States that put him on Texas Tech's radar.
"Everything recruiting now is done through Twitter, so one day I just started following tons of coaches on coaching staffs throughout the states and seeing which ones would follow back so I could get into contact. I had seen some film on Texas Tech and started following some coaches on their staff. One of their coaches, Lee Hays, followed me back and we just started talking. It was pretty cool because I sent him my tape and then he had me send my transcripts to him and he would direct it to the right people. He eventually got back to me and said the defensive line coaches are fired up and were really excited. I'm supposed to get in contact with them at the end of the week. And that is how it went down, just over Twitter and kind of out of the blue, which was pretty cool."
"When you follow coaches like that, it is kind of hit-or-miss. Some coaches have thousands and thousands of followers, so you never know which ones will get back with you. I follow these coaches to get in contact with them. Coach Hays' name popped up, so I gave him a follow and he got back with me pretty quick. I followed Tech coaches initially because I was watching a bunch of stuff on 2016 recruiting classes and their class stood out to me. I found a Tech website and did some research and really liked what I saw. Then Coach Hays happened to follow me back. Like I said, it is always hit-or-miss but Coach Hays followed me back and we kept in touch."
With chances of continuing his playing career looking bleak, Coach Hays responding so quickly made a big impact on the Canadian recruit. Also, the aspects of the 2016 signing class for Tech appealed to the prospect, and he noted Clarence Henderson, Houston Miller, and Noah Jones as guys that stood out and he measured himself up to.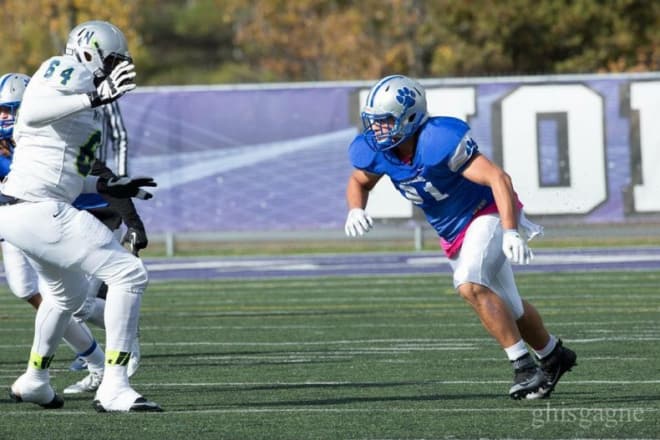 The defensive end wasn't completely ignored on the recruiting trail, however, as smaller schools such as North Dakota, Robert Morris, and West Virginia State were in contact up until signing day. In fact, Berglund was going to sign with Robert Morris, a division-two school located in Pennsylvania, but ended up passing as he did not feel comfortable with some parameters that the school set for him and did not want to make a rash decision. Berglund passed on signing and again started working towards getting another opportunity, which eventually came to him from Texas Tech.
"I'm in a position that I've been following coaches on Twitter, I send out 20 emails a day—and that is being modest. I'm going to staff directories and calling every single coach that has a number listed, just trying to get through to coaches. I've been doing that ever since I felt my dream could become a reality a couple years ago. I think for me, the hardest part about being recruited and why it has been such a hard process for me, is just the Canadian stereotype and the fact that I'm playing football in Canada. You just need the right coach to believe in you at the right time which is really I guess what it boils down to, and Texas Tech is a school that has given me an opportunity."
Being from Nova Scotia and going to school in Quebec at Champlain College in Lennoxville, the 19-year-old recruit is not allowed to receive a full-ride to play football in the United States, so Berglund has to consider a variety of variables when making his decision, quite notably the aspect of tuition. Before he can even consider total cost of attending college in the States though, an offer to play has to be available. Penn State is in contact with the recruit and are in talks to set up a visit, but no official offer has been made which puts Berglund's full attention on the only walk-on offer he has: Texas Tech.
Berglund has never been to Texas and quite honestly does not care about the distance. Tech has given him the opportunity to play and that is what he is focused on.
"Last year I sold all my jewelry and a lot of my other possessions just to have more money available for me to attend football camps and workouts and do whatever I needed to get better. I think me doing that shows that I'm willing to do anything to be successful. If Texas Tech affords me that opportunity to be successful, no amount of distance will hold me back. I want to perform, and perform at the highest level, so going all the way to Texas won't stop me if that is where the opportunity is."
In fact, Berglund is so disinterested in distance and just wants to pursue his dream, he is willing to commit to Lubbock and Texas Tech sight un-seen.
"I definitely thought about it (taking a visit) and it would be something that I would be interested in, but I haven't talked to Coach Hays about it yet. I never really thought to expect to get a preferred walk-on offer, so it wasn't something I was prepared for or may have the funds to take multiple visits. I do not mind, however, if my first time to Texas and to Lubbock is when I first set foot on campus to start classes and play football. I do not care, I just want to play."
If all goes as planned and everything with the NCAA Clearinghouse goes smoothly, the number one defensive end in Canada (canadianfootballchat.com) hopes to have three years to play if he decides to attend Texas Tech. Off-the-field obstacles aside, Berglund mentioned the Canadian stereotype of football up north. He proved he could make some noise in Canada with his various All-Star selections, but what about the transition to American football and how does the recruit feel like he could fit into Tech's defense?
"Where I play now is actually American rules. We follow all the rules of American football, so I don't think adjusting to the rules of football in the United States will be too much of a problem. On the field, I'm really confident in myself and all my life I have wanted to prove myself and show I'm the best. I know that I can compete with the big-time guys. I have to have that mindset even though I may not be competing with them yet. In a defense like Texas Tech I think I can bring a lot of speed, not saying that there isn't a lot of that already, but when I get my chance I know I can bring the speed. I'm confident that I have the fastest first step in Canada, and I think I could translate that to the Texas Tech defense when I get my shot. I'll bring violence, disruption, and speed."
Berglund hopes to make a concrete decision after talking it over with his parents within the next two weeks.